Gracie
Spanish Mustang
Grace is the herd leader and she takes pride in protecting the members of her herd. She loves to be around people and is one of our most intuitive horses!
Lining up with her strengths and personality, Gracie loves and thrives in our equine-facilitated psychotherapy sessions and other types of ground work.
Lilly
Haflinger
Lilly is one of the most easy-going and hard-working horses you will ever meet. While this is a blessing, we are very careful to allow her to express herself and provide her lots of pasture time. She is truly a kind-hearted spirit, and there isn't a single client or volunteer that doesn't fall in love with her sweet disposition!
Libbie
Lippett Morgan

Libbie is 1/4 Critically Endangered Lippett Morgan. She is a real sweetheart and was the former leader of the herd, until Gracie arrived. With her older age and gentle spirit, she was more than happy to hand over the "reigns". She is also a former show horse that was graciously donated by Byron Childress of Virginia.
Dixie
Haflinger

Dixie is a happy and hard-working Haflinger who loves to be around people. She is always curious to know what is going on and loves exploring the trails on The Fuzzy Faces Refuge farm. If you need a horse that is interested in trying something new, she is your girl!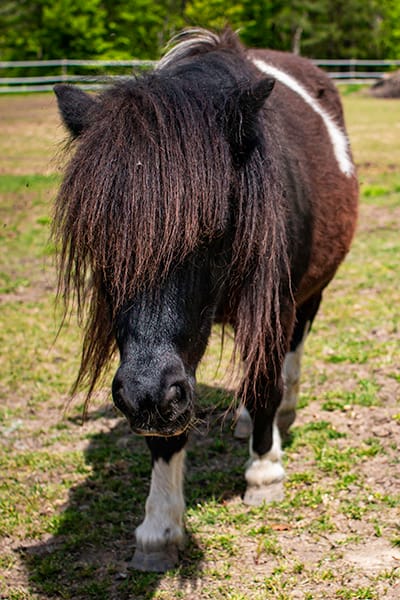 Cookie
Miniature Horse

Cookie is a registered miniature horse. She has a quirky personality and loves getting to just be a horse in the pasture. You may spot her in the field wearing a grazing muzzle, but don't let that throw you off! She just loves grazing a little too much and it helps to slow her down and ultimately keep her healthy!
Honey
American Paint

Honey is a shy, but nurturing American Paint horse who will approach you when she's comfortable. She is the oldest horse in the herd, our vet thinks she is upwards of 29 years old! But, you wouldn't know it if you saw her, she is still thriving even in her old age!
Endangered Heritage Livestock Breeds
We are committed to selecting gentle, critically endangered livestock and poultry. These also include the Morgan Horse (Libbie) and the Spanish Mustang Horse (Gracie) above! Interaction with both children and adults is beneficial to the fuzzy residents here at the Refuge. By offering opportunities for education, therapeutic interaction and adoption of these animals, we will ensure their continued survival while providing lasting memories and an understanding of the importance of preserving our heritage breeds.

Interested in giving an endangered heritage livestock breed a forever home? Contact us! You can also Sponsor an animal by clicking here!

Goats
Breed : San Clemente Island

San Clemente Island goats are critically endangered. There are approx. 750 of this breed left, and we really want them to stick around! They are very sweet, curious and gentle, and they love to play and eat treats from your hand. Learn more about them here.
Chickens
Breed : Barred Holland

Barred Holland Chickens are friendly and calm and get along with people and other animals. Although they are pretty chill, they do have a definite pecking order. The breed can be traced back to 1949, when they were documented with the American Poultry Association Standard of Perfection. Learn more about them here.
Geese
Breed : American Buff

We're the most gentle and calm breed of goose there is! Geese are the most intelligent poultry. You will be surprised by their understanding of things happening around them. They enjoy companionship, they play, they seem to have emotions, and they will communicate with you if you listen. Learn more about them here.
Ducks
Breed : Saxony

Saxony Ducks are sweet, gentle, and of course...love to swim! Saxony Ducks can also do well as a backyard pet if they have a habitat that is created just for them. Their lifespan is typically 9-12 years. Learn more about them here.
Bees
Breed : Native Honey Bees

We hope to help honey bees continue to thrive with our managed hives on FFR property! Did you know that one bee would have to fly around 90,000 miles (three times around the globe) to produce one pound of honey? The average bee will make 1/12th of a teaspoon of honey in its lifetime, and visits 50-100 flowers during a single collection trip!