Bonnie Dennis, CTP
Founder, Board Of Directors, Treasurer & Veteran

Bonnie is an Army Veteran and the daughter of a 1st Air Calvary Vietnam war veteran, she grew up living all over the country as well as in Germany. But, her favorite permanent "home" was with her Grandparents in South Carolina where she enjoyed helping on the farm and caring for the animals!
Bonnie suffers from PTSD and feels blessed to be able to provide a place for others to heal and feel connected. Working together and helping others is Bonnie's passion.
Bonnie conducts the animal care training and educates others on the need to preserve our heritage livestock breeds.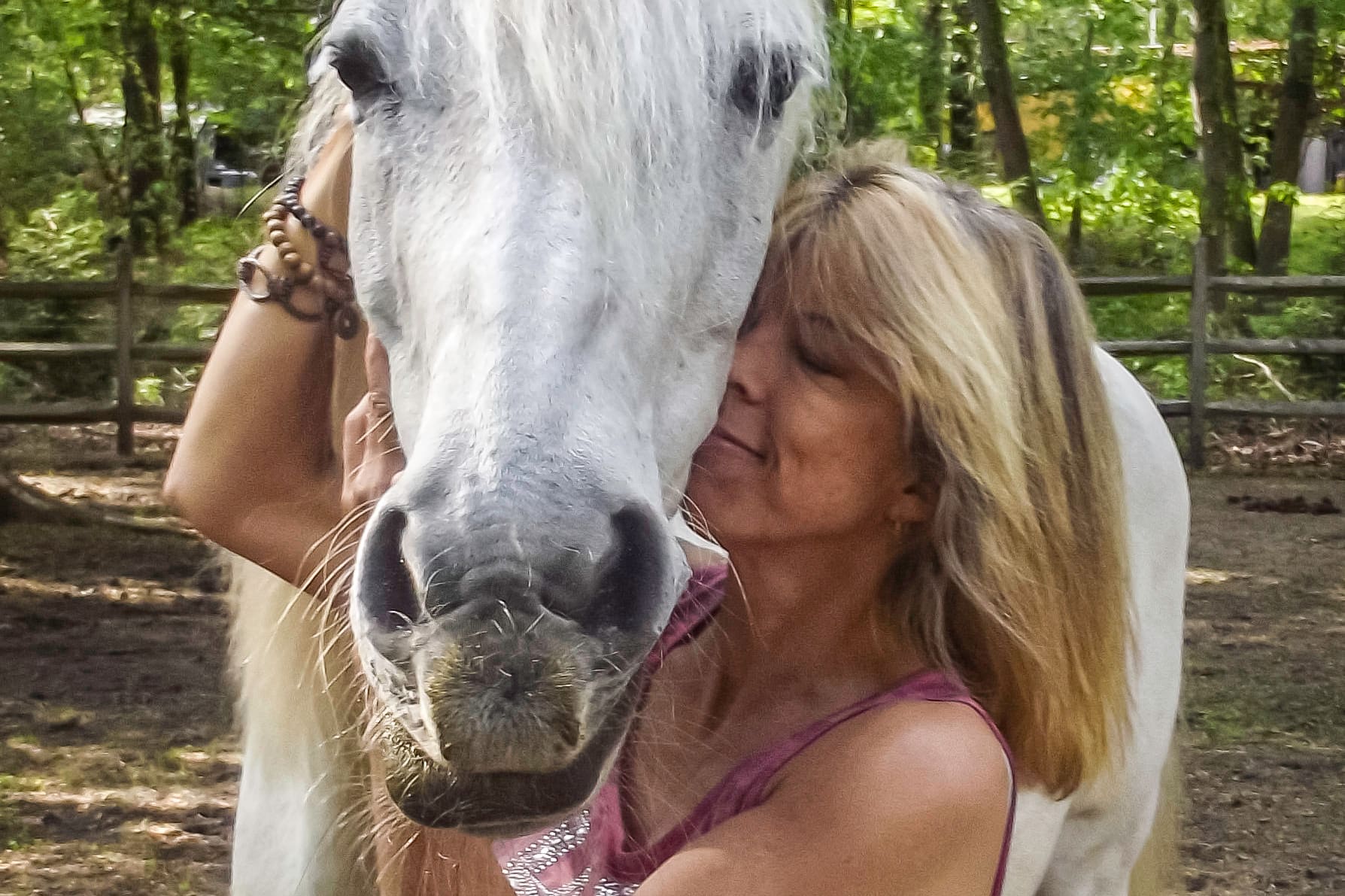 Jennie Hill
Program Director for Freedom Steps,
PATH Int'l CTRI (Certified Therapeutic Riding Instructor) and ESMHL (Equine Specialist in Mental Health & Learning).

A graduate of Florida State University, Jennie became PATH Certified in 2005 and opened a non-profit therapeutic riding program in New Jersey that she ran for 12 years, before coming here to North Carolina.
Jennie has over 35 years of horse experience and is so grateful to her soul-horse, "Baby" and others for this incredible journey! Jennie has completed the PATH Int'l Horses for Heroes certification and her ESMHL (Equine Specialist in Mental Health & Learning) designation.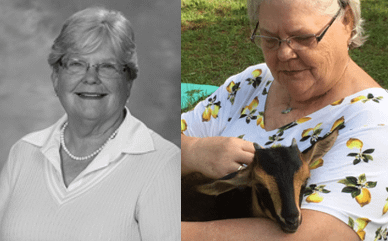 Dr Harriett L Enzor, Ph.D,
NCC, LPCS, CGCBT, CCMT, CCDAC
Board Of Directors
Dr. Enzor received her Masters and Ph.D. in Counseling and Development with a concentration in psychology and child development from the University of North Carolina at Greensboro. Currently, Dr. Enzor is an Associate Professor Emeritus at Campbell University after 27 years of teaching and coordinating the counselor education program. She is also an Assistant Professor in the School of Osteopathic Medicine, Department of Psychiatry, Campbell University.
Wheelchair bound since a young age, Dr. Enzor provides guidance and direction to the refuge on access for those with physical challenges.
George Dennis
Founder, Board Of Directors, Barn Management
George's love for animals has only grown since the age of 5, he spent his teenage years helping his uncle with their cattle farm. Now, as the Barn Manager, George makes it his mission to care for the animals at Fuzzy Faces Refuge by ensuring that their habitats are clean and safe.
George takes pride in creating an environment where Veterans, First Responders and people of all abilities can learn about critically endangered heritage breeds, interact with the animals safely and enjoy the benefits that a serene farm setting can provide, including Animal and Equine Assisted Therapies and Therapeutic Riding.
Sarah Buffaloe
Board Of Directors , Animal Care & Fundraising

Sarah has a life long passion for animals and helping others. She was born and raised in Garner, NC, growing up on the Dorothea Dix Hospital campus where her parents worked. Sarah served as guardian for her cousin, who suffered from mental illness, affording her a deep understanding of the challenges that mental health issues can present. This understanding has strengthened her desire to help those who suffer from these type of issues.
Married to Allen Buffaloe and mother to their two beautiful twins, Ashlyn and A.J., Sarah still makes time to volunteer! She has selflessly donated her time and talent to many schools and non-profits over the years. FFR is fortunate to count her as part of our Fuzzy Faces Family!
Connie Bryant, MBA
Board Of Directors, Marketing

Connie grew up in Nairobi, Kenya, Africa and loves to travel all over the world. She is married to a United States Army Veteran and the mother of two beautiful children. She has found her passion in helping the Veterans within our community!
Connie is an accomplished leader with an extensive track record of building global teams to deliver value across cultural and geographic boundaries. Her extensive background in marketing, business strategy, and operations are invaluable to the success of Fuzzy Faces Refuge.
JoAnn Janke
Board Of Directors, Fundraising & Grants

JoAnn has a Bachelor of Science degree in Equine Business Management. While her current "day job" is as a Business Liaison Consultant for a national bank/mortgage lender, she has also worked with Horses on and off for 40 years. She has lived in Clayton for over 6 years and loves the improvements she has seen in the community during that time.
JoAnn started as a volunteer at Fuzzy Faces in July 2018, handling morning feeding and chores every Sunday and coming out to help the Freedom Steps Program 1-2 nights a week. She loves being able to combine her passion for animals and her business skills to contribute to the growth and success of FFR.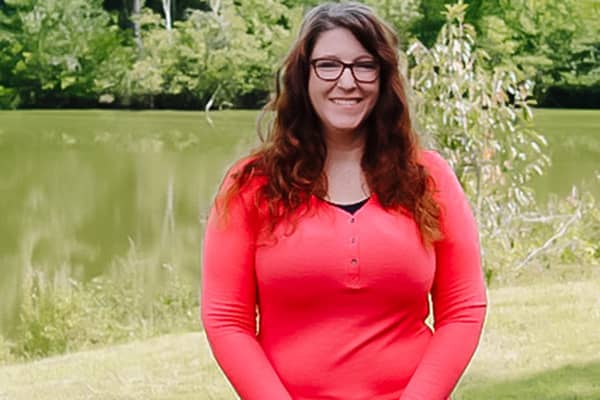 Peggy Jensen
Board of Directors, Secretary & Volunteer Coordinator

Peggy is a mom of three girls and has a Bachelors of Science degree in Business Administration and Management. Her "day job" for nearly 20 years has been in the Technology field as an IT Quality Engineer. She has lived in Clayton for 8 years and has been involved in community outreach projects with the Boys and Girls Club, Tech Girls, Blessing Boxes, and getting the elderly community connected with the digital world by supporting small groups and teaching them how to use their laptops, tablets and phones to stay connected.
Peggy started as a FFR volunteer in July of 2019, handling morning feeding on Saturdays and feeding and grooming on Sundays. She also volunteers during the week with the Equine Therapy riding sessions and is dedicated to building the volunteer base at the Refuge.
Jennifer Kehrer
Board Of Directors, Grounds Management

Jennifer brings creativity and positivity to the Fuzzy Faces Refuge team. Jen grew up traveling the world courtesy of the United States Navy and in that experience developed a keen sense of understanding and commitment to others.
Jenn has over 15 years of civic service experience, homesteading activity, art and workshop instruction. Having lived in Clayton for over 6 years, she is a member of the NC Extension Master Gardeners, as well as Clayton Visual Arts. Jennifer has a passion for inspiring others to find the creative force within, harnessing the power of expression for the benefit of self-balance and goodwill. When not at the farm she is in her studio, creating and teaching art, or working in her garden.
Arianna Pflederer
Digital Designer & FFR Volunteer

Arianna is a mom of three, who has molded her career around Digital Content Creation. Her platform consists of sharing helpful advice and tips for fellow mom's and parents looking to live a more simplified and intentional life. She also speaks openly to her audience about her PTSD and the importance of mental health wellness. She hopes she can help make mental health conversations a normal and encouraged part of societal communication, particularly amongst mothers such as herself.
Arianna serves through digital content creation for the FFR website and occasional graphic design work needed for social platforms.
Richard Hendrix
Board Of Directors, Legal Advisor & Veteran

Richard is a Viet Nam Veteran and military dog handler. During his time in the Air Force he was certified with Patrol, Water, Narcotics and Bomb detection. After the Air Force, Richard trained and handled bloodhounds for the North Carolina Department of Corrections, assisting various law enforcement agencies with tracking. Richard is certified in Reality Therapy and graduated from Carolina Law School in 1996, after medically retiring from the Sheriff's Department. Richard is now retired from the PBA where he represented law enforcement and corrections personnel.
Richard loves dogs, especially German Shepherds, and has volunteered with several German Shepherd non-profits.